Yves Kovier adds new stocks to their illustrious inventory of exclusive earrings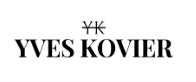 Leading France-based jewellery brand, Yves Kovier, continues to create stunning looks with the addition of new products to their store
Yves Kovier has been in the business of creating elegantly designed earrings for over four decades, helping millions of women in different parts of the world to express their personality effortlessly. In line with the company's goal of ensuring that every woman is the centre of attention irrespective of the event, Yves Kovier recently added new pieces to their collection.
Jewellery comes in different forms and styles, and lovers of pieces of jewellery, especially women, often go to any extent to get their favourite pieces. Shopping for jewellery can sometimes be challengers, with shoppers becoming indecisive, confused, and frustrated at the vast amount of available information. The relative difficulty in accessing pieces of jewellery from diamond rings to Swarovski crystals has hindered buyers from purchasing their favourite piece. This is where Yves Kovier has been particularly helpful, providing a perfect combination of relative affordability, quality, and accessibility since 1976.
The brand has carved a niche for itself in the industry by focusing on one type of jewellery – earrings, and ultimately creating breathtaking pieces. Yves Kovier matches the "jack of one trade, master of one" analogy. The leading jewellery company offers different categories of earrings to meet the diverse needs of shoppers worldwide.
Yves Kovier provides women with outstanding drops, modern hoops, amazing studs, and fantastic pairs. Thanks to a team of professional smiths, Yves Kovier offers perfectly handcrafted earrings handcrafted in a village in the north of France called Metz.
The leading jewellery supplier has a user-friendly online store that allows shoppers to browse through the pages easily and select their favourites from the tons of delicately made earrings. The diverse collection of products and the fantastic quality of each piece have helped Yves Kovier rank as one of the most sought-after brands in the industry. Yves Kovier has already been featured in major beauty and fashion platforms, including Vanity Fair, Vogue, Glamour, and Cosmopolitan.
For more information about Yves Kovier and their range of earring collections, please visit – https://yveskovier.com/.
About Yves Kovier
Yves Kovier is a jewellery company founded in 1976. Headquartered in France, the company offers a combination of years of jewellery design and manufacturing experience to help buyers worldwide slay effortlessly in different kinds of jewellery items without breaking the bank.
Media Contact
Company Name: Yves Kovier
Contact Person: Lorie Gaudreaux
Email: Send Email
Phone: +1 323 656-8895
Country: United States
Website: https://yveskovier.com/