Best Selling Boat in Hong Kong gets a design update
Good news for boat enthusiasts as Asia Boating Ltd announces a design update for Hong Kong's best-seller, the Karnic boat. After its introduction and sale in HongKong by Asia Boating Ltd, demand for Karnic's SL702 speedboat went through the roof. This was reported to have been accomplished only by word of mouth.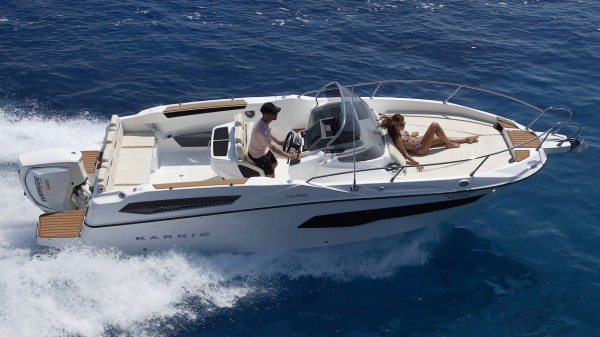 Now in 2020, the Karnic speedboat has a design update and will go from model SL702 to SL702-MK2. The exterior is updated with more a streamlined outer design. The interior front cabin of the boat has been stretched and expanded with a shiny gel coat finish on its walls. The new design fixes more than the aesthetics of the Karnic boat, it also protects the boat against moisture which can get serious in Asian countries.
Perfect as a starter boat, the new SL702-MK2 boat is said to be inexpensive by happy customers. It is authentic, requires low maintenance, and can be a great boat for a small family. In a bid to maximize its uses, certain buyers in Hong Kong put up metal frames on top for skiing expeditions. With its exquisite front cabin and toilet, the SL702-MK2 can be a weekender boat. It is easy and efficient to operate.
Despite only being 26 feet long, the new SL702 26 has a spacious front cabin with a marine toilet. Prior to its introduction, no boat this small had been fitted with a fully functional marine toilet without compromising its performance dynamics on water. The experts at Asia Boating Ltd explained that when boats are stretched and made wider and taller to create some room on the inside, they tend to lose some functionality. The SL702 is said to be a winner in this category.
The SL702-MK2 model is said to have been made with real boaters in mind. It is designed to be simple without unnecessary fancy technology. The guys at Asian Boating Ltd explained that this will ensure that boaters or boat owners do not spend more time fixing their boat than actually enjoying it.
Built to provide absolute comfort, the SL702-MK2 model features interchangeable seats, an original idea by the team at Karnic. The rear seats of the SL702-MK2 can be folded up and down and made into a sunbed, into a U-shape seating arrangement, or an L-shape seating arrangement. The array of choices provides boaters with options for their guests.
Like all boats in their books, Asia Boating Ltd did a piece on the new SL702-MK2 which can be read or viewed here for prospective buyers or enthusiasts looking to learn more. The post is packed full of photos, videos, and written content to give readers a close look at the SL702 speed boat. Due to its size, the new Karnic boat can be stored in any shipyard or yacht club with extreme ease. Its light but strong design ensures that it can be carried by all standard boat lifts.
Despite all its flash and trendiness, buyers have been most impressed by the performance of the SL702 speed boat. With just one outboard engine of 200 horsepower, the boat touches 40 knots. On cruising speed it is one of the most fuel-efficient boats in its range. The maximum engine capacity extends up to 250 horsepower for someone who really loves speed and performance.
About Asia Boating Ltd
Asia Boating Ltd also has more boats for sale in Hong Kong and has been well established in Hong Kong as a yacht broker and boat dealer since 2005. Baggy Sartape of Asia Boating Ltd has been selling boats in Hong Kong since 1998. Professional in his field he has also authored a book called "Business of Boating in Asia".
For more information, use the media contact outlets below.
Media Contact
Company Name: Asia Boating Ltd
Contact Person: Baggy
Email: Send Email
Country: China
Website: https://www.asia-boating.com/