Visionary Author, Ayanna Gallow, with 11 successful women use their voices to motivate women in the anthology "Saving Lives While Fighting for Mine: Stories to Empower Women to Win"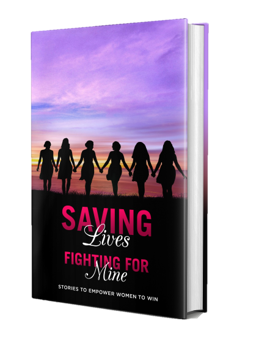 International #1 Best Selling Author, Evangelist Ayanna Mills Gallow has launched a new anthology titled "Saving Lives While Fighting for Mine: Stories to Empower Women to Win," a book that motivates and empowers women to overcome Gender & Equality Discrimination, Financial Stress, Low Self Worth, and Trauma.

The book is co-authored by eleven other successful women who have led exemplary lives in their fields as they discuss their past problems, which seemed insurmountable at that time. These women kept pushing, striving, surviving, and today, they can proudly tell their stories to help others.
Speaking about the book, Ayanna Gallow said: "What if I told you that your present problem will bring you healing and happiness later? Would you stay and fight? Or, would you give up because your pain feels unbearable? The purpose of this book is to help women know they are not alone in their struggles, so that young women will learn preventive measures from poor decision making, and so that women who are currently struggling will gain hope, inspiration, motivation, and tips to apply in the middle of their messes". Ayanna is a Literary Strategist that helps other writers to maximize success.
Trevis Michelle Mallord, Jacinta Wolff, Charmane West, and Lisa Lamazzi empower women to overcome divorce and low self-esteem. The uncertainty and insecurity that divorce creates can leave one with an open wound subject to infection. This infection — low self-esteem — can manifest itself in self-abusive behavior such as: drinking to excess, promiscuity (or dating inappropriate people). These women handled this topic with aplomb, giving practical life solutions to this problem.
Lisa Campbell and Martha King shared their personal stories to help women overcome sexual trauma so that they can take their power back. Due to the trauma and negative emotions linked to sexual abuse, survivors may be at risk for mental health conditions. Survivors of sexual abuse may develop anxiety, PTSD, depression, addiction, etc. Lisa and Martha disseminated life-changing tips and values that will help victims of this vice.
Dr. Charmaine Gentles, Dr. Keesha Karriem, and Tiffani Teachey shared their stories to empower the career-oriented woman working in healthcare, government, and Science Technology Engineering and Mathematics (Stem) careers; while Alison Brown and Chany Rosengarten are empowering women to create wealth and overcome poverty.
The authors did not focus on their present problems and give up; they focused on solutions and someone they wanted to live for. Their personal transformational stories are to empower women to win:
Win in education
Win in motherhood
Win in educating their children
Win in their finances
Win in relationships
Win in employment
Win in their physical bodies
Win in their minds
Saving Lives While Fighting for Mine: Stories to Empower Women to win was compiled by the visionary author Ayanna Gallow while Dr. Janell Jones wrote the foreword.
Media Contact
Company Name: Thanx A Mills, LLC
Contact Person: Media Relations
Email: Send Email
Phone: (770) 530-8257
Country: United States
Website: savinglivesbook.wordpress.com