Improve Business Branding with Custom T-Shirt Printing Machines from EraSmart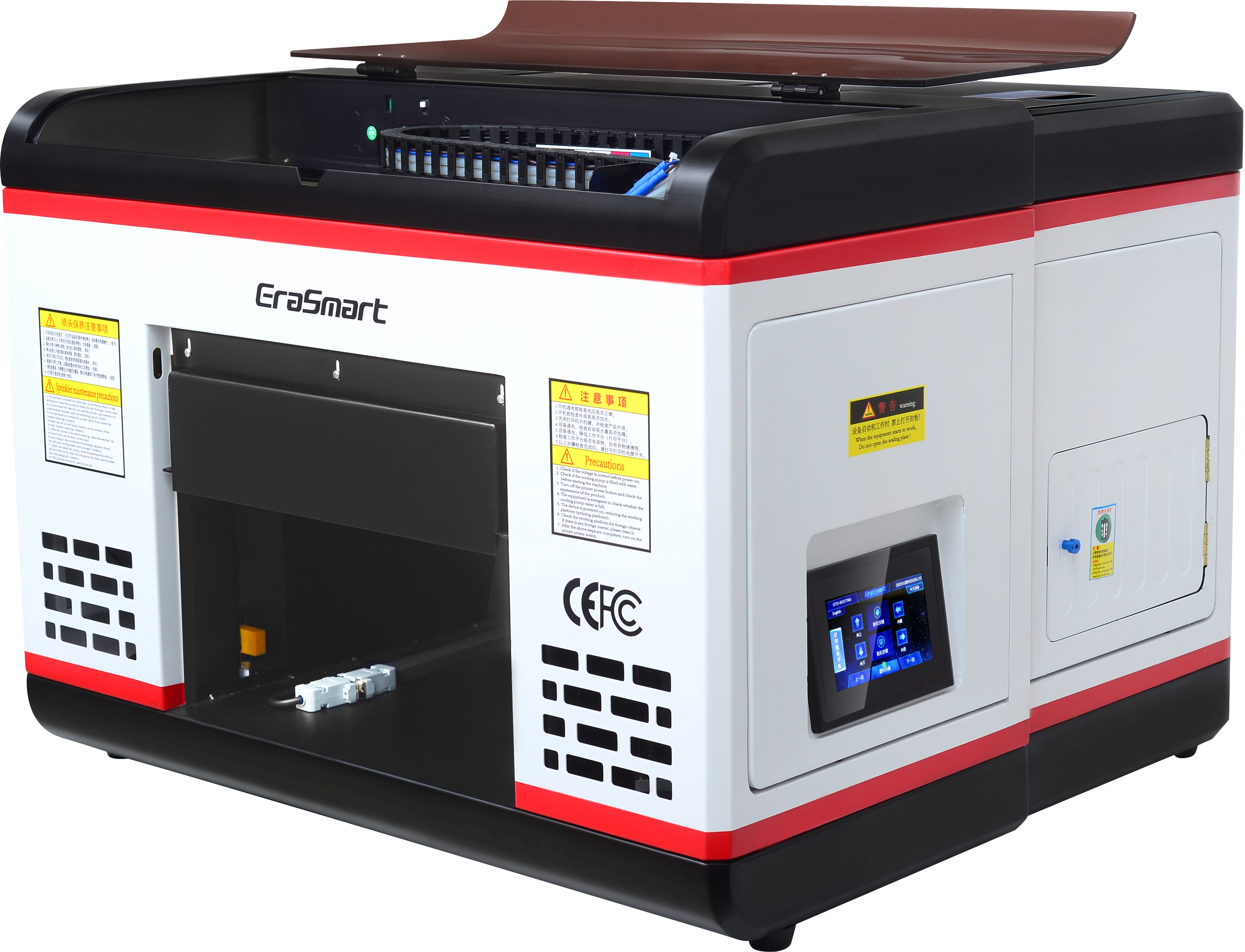 Personalised gifting is a marketing trend that is catching up real fast. Distributed as promotional freebies, businesses too are leveraging their value in building brand awareness. Custom clothing and stationery help extend a company's reach and keep reminding customers about the brand.
T-shirts featuring the name and logo of the company are a popular choice for customised promotional items. They look good and are extremely useful. The task of creating custom T-shirts can be outsourced to a company providing on-demand T-shirt printing services. A more practical solution is to handle the production in-house by investing in a decent T-shirting Printing Machine.
EraSmart, the Chinese manufacturer of desktop flatbed digital printers, provides a range of sophisticated T-shirt printing machines that make garment decoration a breeze.
As a digital direct-to-garment (DTG) printing machine, EraSmart's offering prints the desired designs directly onto the garment. What gives this model an upper hand over its competitors is its wide-ranging printing capabilities. It is not limited in terms of the type and thickness of the fabric it can print on and neither background colours. EraSmart's Automatic A3+ 400*500 DTG 4720 Direct to Garment Printer enables full colour image printing on T-shirts, hoodies and polo-shirts. Not just this, it is easy to print on thicker garments too.
The ultra-modern printhead on this new-generation T-shirt printing machine ensures the highest level of precision. It has also helped boost print speeds. The infrared sensor allows for automatic adjustment of the height of the printing platform. Besides, the Secondary Ink Station reduces the printing defects to the minimum. It enables uniform dispersion of the ink across the printing surface, prevents ink deposition and reduces ink wastage. Given its small footprint, the printer does not take up too much floor space. Its slightly boxy appearance and polished exterior looks and feels solid. It is one of the quieter operating machines on the shelf. A minimal manual maintenance is another reason for it being the preferred option for T-shirt printing.
EraSmart's T-shirt printing machine has emerged as a frontrunner for its printing capacity. It is an ideal option for small-scale home businesses as well as a full-production line handling bulk orders.
EraSmart is one of the key players in the direct-to-garment market space. The brand operates under the aegis of Chuang Cheng Da Technology Co. Ltd., a tech company committed to building lasting and affordable printing solutions. The company specialises in the manufacture of small flat panel printers. EraSmart's A4 and A3 printers are built to print on flat and cylindrical surfaces.
Backing the research and development at the Chuang Cheng Da Technology Co. Ltd is a strong team of trained and skilled professionals. The company has several utility and design patents to their credit. Their lineup of T-shirt printing machines are known for their superior build quality and performance. They are also one the companies with the best customer support and after-sales service. Their printing machines are exported to the Middle East, South East Asia, North America and Western Europe.
For more information contact: WhatsApp/WeChat: +8618566233796
Media Contact
Company Name: Erasmart | Chuang Cheng Da Technology Co., Ltd
Contact Person: Media Relations
Email: Send Email
Phone: +8618566233796
Address:4th Floor, Building C, Yinxin Technology Park, Jinquan 3 Road Liuyue Community, Henggang Street
City: Shenzhen
Country: China
Website: https://www.erasmart.com