Carolle L. Bright launches new faith book titled Peace: The Twenty Miracles from God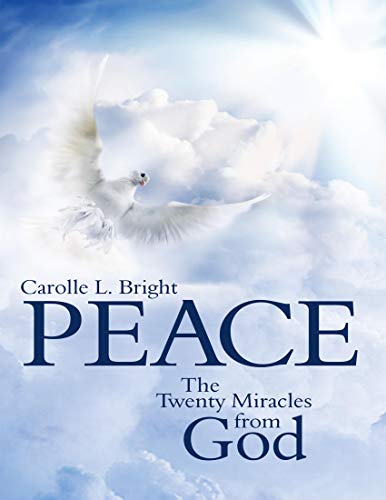 Gifted writer and author, Carolle L. Bright is elated to announce the launch of her new faith book, Peace: The Twenty Miracles from God
Within this world of tragedy, miracles happen all the time. They appear silently without thunderclaps and roaring winds to bring change. There are big miracles and little miracles, big changes and small changes. There is no warning that a miracle is coming; they simply appear in peace and assurance. At times, miracles can be very disconcerting, and they can throw you for a loop.
In PEACE: The Twenty Miracles from God, author Carolle L. Bright offers a series of reflections on God's goodness and focuses on twenty miracles God has given us to have peace of mind in our lives. Geared toward the broken-hearted and downcast, PEACE: The Twenty Miracles from God contains steps to start life-changing habits, strengthen self-confidence, and enhance permanent success. The stories bring freedom, encouragement, and peace to those in despair.
Carolle L. Bright earned a specialist degree in peace and conflict studies at the University of Toronto, Ontario. A descendant of Quaker John Bright, she is committed to peace and social justice issues, animal rights, and the environment. Bright's contributions with children are in areas of literacy and finding inspiration in nature and the world around them. She lives in Toronto and has a grown son.
Peace: The Twenty Miracles from God is published and marketed by Author's Tranquility Press, the best marketing tool for new and established authors, serving as the authors' ultimate book publicity partner.
Media Contact
Company Name: Author's Tranquility Press
Contact Person: Patricia Adams, Marketing Supervisor
Email: Send Email
Phone: (866) 411-8655
Address:239 Richmond Dr
City: Hiram
State: Georgia, 30141
Country: United States
Website: www.authorstranquilitypress.com