Daniel V. Meier, Jr.'s Blood Before Dawn is a Compelling Historical Military Thriller that Spotlights the Liberian Coup d'etat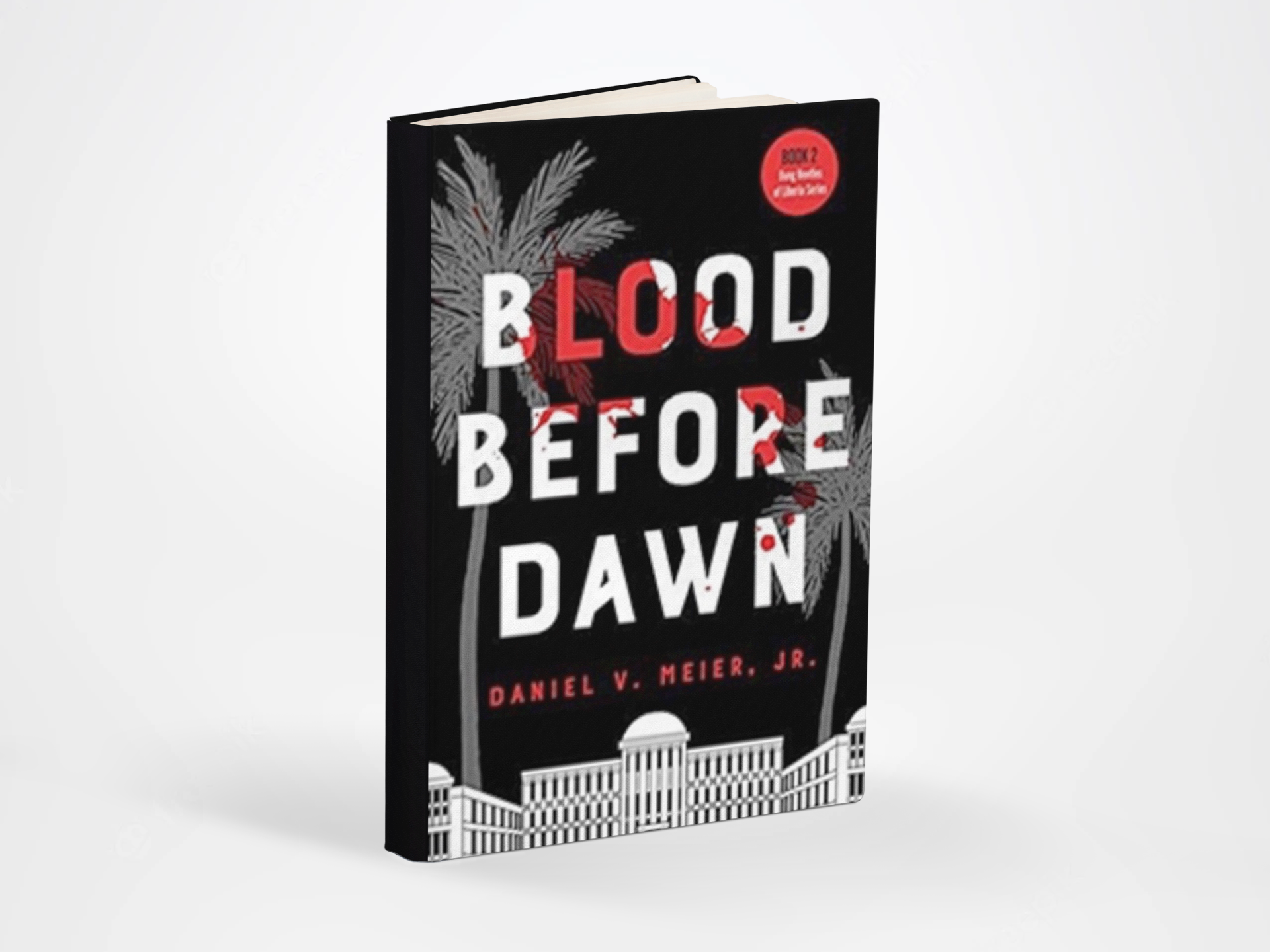 BLOOD BEFORE DAWN captures a tumultuous yet poorly documented piece of Liberia's history—the overthrow of the Tolbert presidency that ultimately ends the Americo-Liberian one hundred and thirty-three years of political and social dominance.
BLOOD BEFORE DAWN is the thrilling sequel to Daniel V. Meier Jr.'s award-winning historical fiction novel, THE DUNG BEETLES OF LIBERIA. Set in the late 1970s, the book follows Ken Verrier as he returns to Liberia with his wife Sam. What starts out as a simple trip to buy diamonds spirals out of control when the couple finds themselves in the middle of a violent political uprising. Ken and his wife embark on a series of deadly misadventures revolving around a plot to assassinate Liberian President William Tolbert and overthrow his oligarchy, which has hoarded the country's wealth and resources while raising taxes for its poorest citizens. Along the way, they meet two CIA agents whose agenda is less than clear and find themselves ever closer to the center of the action.
"Writing about Liberia fascinated me. I became captivated by this enchanting yet doomed country," says author Daniel V. Meier, Jr. A multi-award-winning author, Meier, Jr. brings an immersive, cinematic flair to storytelling, masterfully blending reality with fiction. With BLOOD BEFORE DAWN, his goal was to showcase the harrowing reality of a nation in crisis and the impact of the powerful elite on its citizens. "In games of power, it's the citizenry who suffer the most. It is the perfect example of the "Power Elite Theory" which states that all societies, even those that call themselves democratic, are never governed by the people, but by a small powerful elite class. A class that will eventually be overthrown."
Although BLOOD BEFORE DAWN offers a fictional account of a pivotal moment in Liberian history, the book is about as truthful as it gets when it comes to portraying the chaos of imperialism, the atrocities that have plagued Liberian history, and the less than noble role of the American government through it all. The narrative is fast, fun and grimly exhilarating but just beneath its surface lies a poignant and thoughtful critique of historical greed and corruption. Meier Jr.'s way of capturing our attention and keeping us engaged as he embeds such depth and substance in both his characters and his plot is spellbinding. Though Ken's story is just beginning, the uprising is well underway by the time he arrives in Liberia, and as a result, Meier Jr. skillfully sets the book's fast pace and guides us along the chaos, all while planting the seeds of a challenging and provocative portrayal of history.
BLOOD BEFORE DAWN has received positive reviews from some of the most well-renowned literary organizations, authors, and reviewers around the world. The Prairies Review writes, "From its adrenaline-fueled opening to its surprising conclusion, this poignant novel brilliantly captures the population's unrest." BookLife Reviews writes, "Thriller fans who demand realism and humanity will find much to love in this novel of revolutionary Liberia."
BLOOD BEFORE DAWN is not for the faint of heart but, perhaps, that's part of why it is so compelling, thought-provoking, and important to read. The book is available for sale on Amazon, Barnes & Noble, Apple iBooks, Kobo, Nook, Google Play and other online bookstores. Readers are encouraged to purchase their copy today: https://amzn.to/3m2TlX0
About the Author
Daniel V. Meier, Jr.,. author of "Blood Before Dawn" served in the United States Navy, and has worked as a teacher, journalist, and flight instructor. He spent 20 years as an aviation safety inspector for the FAA. He studied History at the University of North Carolina, Wilmington (UNCW) and American Literature at The University of Maryland Graduate School. "Blood Before Dawn" is the sequel to the award-winning historical novel, "The Dung Beetles of Liberia", released in September 2019. He is also the author of "Bloodroot" the gripping account of survival in America's earliest settlement, Jamestown, Virginia, and "No Birds Sing Here", a work of Literary Fiction Satire. To learn more, please visit: https://danielmeierauthor.com
Connect with Daniel V. Meier, Jr. on Social Media
https://www.facebook.com/danielmeierauthor
https://twitter.com/AuthorMeier
https://www.instagram.com/dvmeierjr/
Media Contact
Company Name: Author News Network
Contact Person: Media Relations
Email: Send Email
Country: United States
Website: authornewsnetwork.com