Primary Hyperoxaluria Epidemiology Forecast to 2030 By DelveInsight

DelveInsight has launched a new report on Primary Hyperoxaluria Epidemiology
DelveInsight's 'Primary Hyperoxaluria Epidemiology Forecast to 2030' report delivers an in-depth understanding of the disease, historical and forecasted Primary Hyperoxaluria epidemiology in the 7MM, i.e., the United States, EU5 (Germany, Spain, Italy, France, and the United Kingdom), and Japan.
Primary hyperoxaluria (PH) is a rare condition characterized by recurrent kidney and bladder stones. The condition often results in end stage renal disease (ESRD), which is a life-threatening condition that prevents the kidneys from filtering fluids and waste products from the body effectively. Primary hyperoxaluria results from the overproduction of a substance called oxalate. Oxalate is filtered through the kidneys and excreted as a waste product in urine, leading to abnormally high levels of this substance in urine (hyperoxaluria). There are three types of primary hyperoxaluria that differ in their severity and genetic cause. In primary hyperoxaluria type 1, kidney stones typically begin to appear anytime from childhood to early adulthood, and ESRD can develop at any age. Primary hyperoxaluria type 2 is similar to type 1, but ESRD develops later in life. In primary hyperoxaluria type 3, affected individuals often develop kidney stones in early childhood, but few cases of this type have been described so additional signs and symptoms of this type are unclear.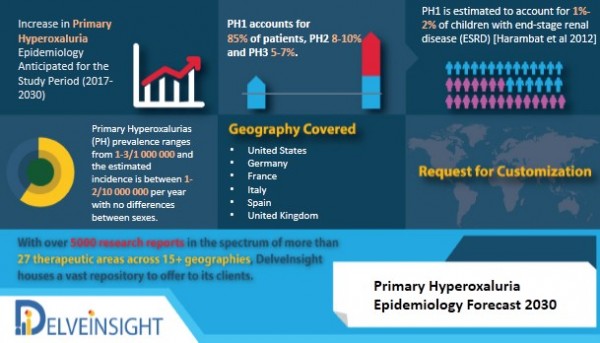 Request for free sample page:- https://www.delveinsight.com/sample-request/primary-hyperoxaluria-epidemiology-forecast
Primary hyperoxaluria Epidemiology
At present, there are no approved therapies for the treatment of Primary Hyperoxaluria and the current therapeutic market for Primary Hyperoxaluria is based on the therapies such as Enzyme reactivation therapy, Gene therapies and Substrate reduction therapy through RNA-interference. Other treatment options include Chemical chaperones, supplements intake, Hepatocyte transplantation, Dialysis whereas the general therapies for nephrolithiasis benefit all individuals with PH. Drugs such as thiazides and potassium citrate or neutral orthophosphates can decrease urinary calcium excretion and inhibit stone formation, respectively. An outline of the therapeutic strategies is currently under investigation. Treatment options for primary hyperoxaluria include alkaline citrate, orthophosphate, or magnesium. In addition, pyridoxine treatment can be used to normalize or reduce oxalate excretion in about 30% of patients with Primary Hyperoxaluria type I. Time on dialysis should be short to avoid overt systemic oxalosis.
Primary hyperoxaluria Key Facts
PH type I is the most common form. One estimate places the prevalence of PH type I at 1-3 cases per 1,000,000 people in the general population and the incidence at 1 case per 120,000 live births per year in Europe.
Primary hyperoxaluria is estimated to affect 1 in 58,000 individuals worldwide. Type 1 is the most common form, accounting for approximately 80 percent of cases. Types 2 and 3 each account for about 10 percent of cases.
As per Orphanet, Severe infantile oxalosis has a poor prognosis quoad vitam. The prognosis for other PH1 B6 unresponsive patients is poor with respect to renal function (> 80% renal failure over time), better for B6 responsive patients, if timely diagnosed and treated. End-stage kidney disease has been found in 20% of PH2 patients, so far not in PH3.
Primary hyperoxaluria Report Scope
The Primary Hyperoxaluria report covers a detailed overview explaining its causes, symptoms, classification, pathophysiology, diagnosis and treatment patterns
The Primary Hyperoxaluria Epidemiology Report and Model provide an overview of the risk factors and global trends of Primary Hyperoxaluria in the seven major markets (7MM:US, France, Germany, Italy, Spain, UK, and Japan)
The report provides insight about the historical and forecasted patient pool of Primary Hyperoxaluria in seven major markets covering the United States, EU5 (Germany, Spain, France, Italy, UK), and Japan
The report helps to recognize the growth opportunities in the 7MM with respect to the patient population
The report assesses the disease risk and burden and highlights the unmet needs of Primary Hyperoxaluria
The report provides the segmentation of the Primary Hyperoxaluria epidemiology
Download free sample page: – https://www.delveinsight.com/sample-request/primary-hyperoxaluria-epidemiology-forecast
Table of content
1. Key Insights
2. Executive Summary of Primary Hyperoxaluria
3. Primary Hyperoxaluria: Disease Background and Overview
4. Patient Journey
5. Epidemiology and Patient Population
6. Treatment Algorithm, Current Treatment, and Medical Practices
7. KOL Views
8. Unmet Needs
9. Appendix
10. DelveInsight Capabilities
11. Disclaimer
12. About DelveInsight
Why should you buy this report?
The Primary Hyperoxaluria Epidemiology report will allow the user to –
Develop business strategies by understanding the trends shaping and driving the global Primary Hyperoxaluria market
Quantify patient populations in the global Primary Hyperoxaluria market to improve product design, pricing, and launch plans
Organize sales and marketing efforts by identifying the age groups and sex that present the best opportunities for Primary Hyperoxaluria therapeutics in each of the markets covered
Understand the magnitude of Primary Hyperoxaluria population by its epidemiology
The Primary Hyperoxaluria Epidemiology Model developed by DelveInsight is easy to navigate, interactive with dashboards, and epidemiology based with transparent and consistent methodologies. Moreover, the model supports data presented in the report and showcases disease trends over 11-year forecast period using reputable sources
Related Reports
Media Contact
Company Name: DelveInsight Business Research LLP
Contact Person: Yash Bhardwaj
Email: Send Email
Phone: +919650213330
Address:304 S. Jones Blvd #2432
City: Las Vegas
State: NV
Country: United States
Website: https://www.delveinsight.com/