Therapy for Black Women Virtual Summit Packed a Powerful Punch Against the Stigma of Mental Illness
August 11, 2020 – Everyone experiences temporary periods of sadness, and times of worry but what happens when those feelings won't go away? All too often, black women try to muscle their way through mental illness on their own.
Hosted by bestselling author and mental health therapist, Dr. Radisha Brown, Therapy for Black Women Virtual Summit featured a diverse group of mental health professionals treating issues that face Black women.
This breakthrough 6-hour virtual summit provided essential education on recognizing symptoms of mental illness, supporting loved ones who are experiencing a mental illness and resources for treatment.
"Each powerful speaker discussed how to manage stress, the best treatment options for mental illness, and how to maintain overall mental wellness to over 200 women! This event was filled with Inspiring Stories of Hope that Reignited fires of forgotten Dreams, shining a light on the darkness of mental illness and heightening levels of self -awareness!"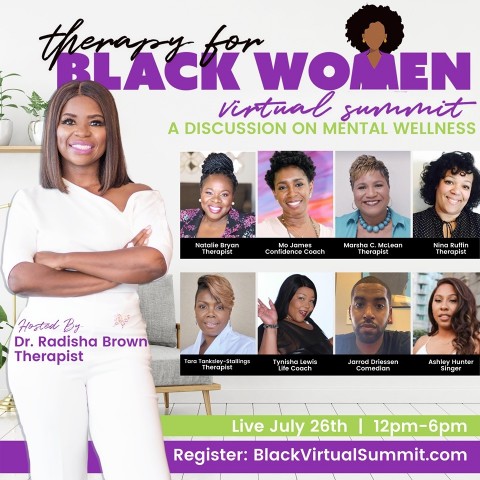 Topics were presented by the following experts including:
The Real Story of Trauma with Marsha C Mclean of Revive Therapeutic Services
Relationship Survival During COVID-19 with Natalie Bryan of Restoring Harmony Counseling
Secrets of a Self-Possessed Woman with Mo James of The Confetti Collective
Demystifying Entanglements with Nina Ruffin of Life Strategies Counseling
How to Break Unwanted Cycles with Tara Tanskley-Stallings of Destiny Life Management Group
Faith in Force with Tynisha Lewis of Intelligence Learning Systems
Attendees were entertained by Ashley Hunter (Singer) and Jarod Driessen (Comedian)
Book a therapy/coaching session: https://linktr.ee/therapyforblackwomenvs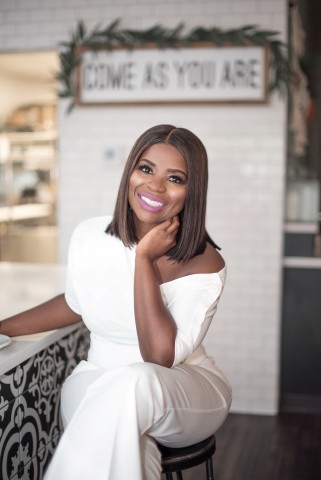 Dr. Radisha Brown the self-described "Mental Weightologist" strives to unravel the spirals of bondage and experiences of trauma that negatively affect women mentally and physically. Her mission is to inspire women around the world to prioritize their mental wellness. She believes that we are ALL Fighting for Our Mental Wellness!
This event packed a powerful punch against the stigma associated with mental illness.
Missed the event?
Catch the replay here: www.blackvirtualsummit.com
Media Contact
Company Name: Holistic Living with Dr. Radisha
Contact Person: Dr. Radisha Brown
Email: Send Email
Phone: 833-825-5285
Country: United States
Website: www.drradisha.com