NeuroOne Medical Technologies Announces Collaborative Partnership with Zimmer Biomet; Exclusive Development and Distribution Agreement for Commercialization of Diagnostic Evo Cortical Electrode
NeuroOne Medical Technologies (OTC: NMTC) announced this week the execution of an exclusive development and distribution agreement with Zimmer Biomet (NYSE: ZBH). Under the terms of the agreement, Zimmer Biomet will acquire exclusive global rights to distribute NeuroOne's Evo™ (Evo) patented electrode technology, complementing its existing ROSA One Robotic platform.
NeuroOne Medical Technologies Corporation is a developmental stage company committed to providing minimally invasive and hi-definition solutions for EEG recording, brain stimulation and ablation solutions for patients suffering from epilepsy, Parkinson's disease, essential tremors and other related neurological disorders that may improve patient outcomes and reduce procedural costs. The Zimmer Biomet partnership provides validation that the Company is making progress to achieving their goal
NeuroOne is targeting a $7B market that is well suited for electrode technology innovation and has enormous pockets of opportunity. Despite significant corporate investments in hardware and software technology in the field of neurosurgery, little progress has been made with electrode innovation. NeuroOne is positioned to fill the gap with their patented thin-film electrode technology. If successful, they could offer companies like Boston Scientific (NYSE:BSX), Medtronic (NYSE: MDT) , Abbott, Liva Nova and Neuropace, companies that offer stimulation systems to treat a variety of neurological disorders, a new and better class of electrode technologies to utilize with their respective systems.
The company's patented Evo Cortical Electrode is a thin film electrode that records, monitors and stimulates brain activity for up to 30 days. Current commercially approved silicone electrodes are an old technology; generally handmade, making it costly and time-consuming to manufacture. Further, the silicone base of current electrode technology does not optimally conform to the brain like NeuroOne's thin film polyimide material does. Existing silicone electrode technology is also limited in its ability to increase the recording resolution of the electrodes with its current design. In contrast, NeuroOne's polyimide thin film technologies may provide higher resolution recording for more advanced clinical applications.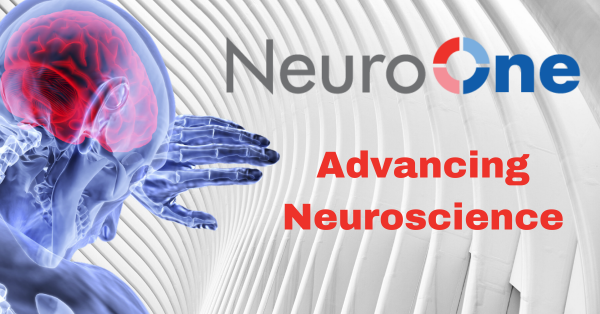 In November 2019, the company received its first FDA 510(k) clearance for its Evo™ Cortical Electrode – a pivotal landmark for the Company and industry. It is the first known thin film electrode technology that is available in the market for recording, monitoring and stimulating brain tissue. Earlier this week, the company announced another major milestone: the execution of an Exclusive Development and Distribution Agreementwith Zimmer Biomet. Under the terms of the agreement, Zimmer Biomet will acquire exclusive global rights to distribute NeuroOne's Evo™ (Evo) patented electrode technology.
Dave Rosa, president and CEO, NeuroOne, commented:
"We are extremely proud to partner with Zimmer Biomet, one of the world's most highly respected medical device manufacturers and a worldwide leader in robotic technology used for a variety of orthopedic and minimally invasive neurosurgical procedures. I believe this collaborative partnership will allow us to more quickly and efficiently penetrate the market while focusing our resources on the pursuit of additional applications of our technology. Despite the current challenges with the COVID-19 pandemic, we are confident that our suppliers will be able to meet our initial launch order requests so that we can initiate commercialization efforts."
This partnership is expected to provide an upfront payment to NeuroOne and may provide back-end milestone payments to NeuroOne if certain milestones are met. Utilizing Zimmer Biomet's existing salesforce may allow for quicker and greater customer sales coverage than what NeuroOne would have been able to accomplish on their own at least initially.
The company's second product, the stereoelectroencephalography (sEEG) Depth Electrode is projected to be submitted under a FDA 510(k) application in Q4 2020. The sEEG Depth Electrode is an expansion of their thin film electrode platform. The sEEG electrode offers the ability to access deep cortical structures (where their Evo cortical electrodes are only on the surface) and the electrodes will be implanted through tiny twist holes instead of a craniotomy. This design feature should lead to fewer complications, less post-operative pain, and shorter length of stay in the hospital.
Similar to the Evo Cortical Electrode, the sEEG Depth Electrode is designed to record, monitor and stimulate brain tissue for up to 30 days use.
Additional designs making their way through the pipeline include an ablation electrode to both record and remove targeted problematic brain tissue, a spinal cord stimulation electrode and a deep brain stimulation electrode. Intended applications for these devices include epilepsy, Parkinsons Disease, Dystonia, Essential Tremors, and chronic back pain due to failed surgeries. Also, there is a great deal of research being done by scientists using deep brain stimulation to treat psychological and mental disorders in addition to future applications utilizing artificial intelligence.
These findings have generated a dramatic spike in interest from powerhouse biotech leaders and technology entrepreneurs. For instance, Elon Musk is leading a surge in investment activity backing novel treatments that have shown success from implanting small wires into the brain that record and restore the natural functionality of a damaged neuron. NeuroOne believes that its high-definition thin film electrode platform could fit well into this evolving area of research and application, allowing for more effective and precise neuron stimulation. To expedite its entry into neuroscience research – and to drive future development of proven products – NeuroOne has created an advisory board of seven prominent AI experts to assist in the technology's planning, development and application.
NeuroOne is also positioning itself to generate near-term revenue, and its pipeline is building a robust foundation to support long-term rewards as well. The company is acutely aware of the demand to deliver a better standard of care as it pertains to electrode technology for neurological applications – and with the Zimmer Biomet partnership, they are one step closer to answering the call.
To find out more visit https://get.ceo3in60.com/neuroone/
Disclaimer
This communication was produced by PCG Digital Holdings, LLC, and affiliate of PCG Advisory Inc., (together "PCG"). PCG is an integrated investor relations, communications and strategic advisory firm. The information contained on this may be 'Paid Advertising' for purposes of Section 17(b) of the Securities Act of 1933, as amended (together with the rules and regulations there under, the "Securities Act"). PCG may be compensated by respective clients for publicizing information relating to its client's securities. For more information in terms of compensation received for services provided by PCG, see the pertinent advertising materials relating to the respective client. By accessing this Site and any pages thereof, you agree to be bound by the Terms of Use and Privacy Policy.
PCG is not a registered or licensed broker, dealer, broker-dealer, investment adviser nor investment manager, nor does PCG engage in any activities that would require such registrations. PCG does not provide investment advice, endorsement, analysis or recommendations with respect to any securities, and its services to or statements about its clients should never be construed as any endorsement of or opinion about any security of any client. No information contained in this communication constitutes an offer to sell, a solicitation of an offer to buy, or a recommendation of any security or any other similar product or service regardless of whether such security, product, or service is referenced in this communication. Further, nothing in this communication is intended to provide tax, legal, or investment advice and nothing in this communication should be construed as a recommendation to buy, sell or hold any investment or security or to engage in any investment strategy or transaction. For full disclaimers, including compensation received for professional services, please visit www.pcgadvisory.com/disclosures
Media Contact
Company Name: PCG Digital Holdings
Contact Person: Kenny Ellis
Email: Send Email
City: New York
State: New York
Country: United States
Website: https://pcgadvisory.com/