Matty Ghebrekristos and Daniel Gonzalez's new podcast Academy of Blues is all about Chelsea Football Club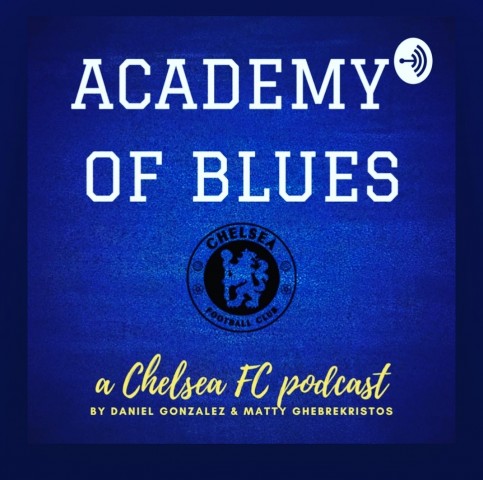 Academy of Blues: A Chelsea FC Podcast is a newly launched podcast hosted by Matty Ghebrekristos and Daniel Gonzalez that focuses on Chelsea Football Club. From the latest news, to match reviews, previews and more, the two hosts have released some exciting episodes that are being loved by Chelsea fans. "I didn't know how much I needed this! I've been a Chelsea fan for most of my life, and I am so glad I discovered this podcast! These guys talk about the team and the sport in a way that is thorough, insightful, and interesting. This is a must-listen if you are a fan of Chelsea or even soccer in general!" says one listener in their review on Apple Podcasts.
The hosts Matty and Daniel feed off each other well in their exhilarating podcast that covers everything including Chelsea FC, World Football, English Premier League, UEFA Champions League, and more. In their debut episode "Two Blues and Pod" released on March 25th, the hosts Matty & Daniel talk about how they became fans of Chelsea FC and give a glimpse of what's coming in the next episodes of the podcast. They got the listeners hooked from the second "Billion Dollar Goal" episode, where they talk about the latest Chelsea news, Billion Dollar goal, and both dumb and honorable things done by the Chelsea players.
In Episode 7 published on May 6th, the hosts reveal a surprise 24-question birthday quiz for the birthday boy and cover other topics like, how the club and its players are keeping busy during the COVID 19 lockdown and the story of Chelsea's champion league triumph. The latest episode "In Napoli…Where we were kings…" is also hit with the listeners where Chelsea's journey to the Champions League Final and beyond is discussed. The co-hosts also give The Academy of Blues Award for the current season.
The Academy of Blues podcast is streaming on multiple platforms including Apple Podcasts, Breaker, Google Podcasts, Spotify, Overcast and others. Tune in to the podcast through this LINK.
Media Contact
Company Name: Academy of Blues
Contact Person: Matty Ghebrekristos
Email: Send Email
Country: United States
Website: anchor.fm/academy-of-blues