Brent Magnussen's latest book "Roger Up" has been referred to as the blueprint for living life to the fullest and thriving in the face of adversity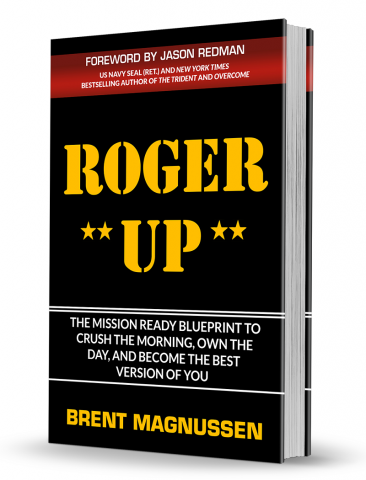 The ongoing Covid-19 pandemic has turned the whole world upside down in no time. In these difficult times, it may be hard to keep the spirits up but not impossible; it all depends on what we watch read or listen to. It is more important than ever to use this time for personal growth and transformation that will help us in moving ahead in life, once everything turns back to 'normal'. With the same thought, author Brent Magnussen has released his book "ROGER UP: The Mission Ready Blueprint to Crush the Morning, Own the Day, and Become the Best Version of YOU!" The book is for anyone who wants to be pushed, both mentally and physically to become the best version of themselves.
ROGER UP is an enthralling action plan for living life to the fullest and rising out stronger and better from adversity. It's a sharp, and smart blueprint that can help one in developing a Samurai mindset through a simple and bulletproof morning routine, unbreakable confidence through Brazilian Jiu-Jitsu, achieve fitness goals with a healthy eating lifestyle and not just another fad diet, speak a new language in 21 days, develop the same deadly skills as Jason Bourne, set and crush personal goals effectively and live life on their terms, master the 30-second elevator pitch to own the room, and cook world-class Italian meatballs in less than 30 minutes!
Peter Voogd, the International best-selling author of "6 Months to 6 Figures" & founder of The Game Changers Academy wrote in his review, "Brent delivers a battle-ready blueprint for thriving in the face of adversity, and backs that up with a proven action plan to get into real action. This book is a must-read, and I promise it will change the game for you… but you must step up as well."
Roger Up is a powerful book by Magnussen that will allow one to push their mind and body capabilities to the maximum, in a realistic way. His passion for life, and "been there done that' attitude shines throughout the book, giving readers a practical insight into the simple fundamentals of life that are often overlooked. This book is uplifting, relatable, therapeutic, and everything one may need in times like this.
Former Navy SEAL Ray "Cash" Care, wrote in his review, "If you are not where you want to be in life, with your life, then this book is for you. ATTACK the HILL and CONQUER everything!"
The book is available for purchase on Amazon and the website www.brentmagnussen.net
About Author:
Brent Magnussen is an American author, professional speaker, and a former U.S Army Engineer. He is an adventure seeker, an avid practitioner of Brazilian Jiu-Jitsu, an accomplished cook, a voracious reader, and a Freemason. He enjoys rucking, traveling, exploring various cultures, hot yoga, hunting, fishing, learning new languages, and living an adventurous life. He currently lives in Chicago with his wife and stepdaughter.
Media Contact
Contact Person: Brent Magnussen
Email: Send Email
Country: United States
Website: www.brentmagnussen.net