Carbon SnoreX™, the world's first Anti-Snore 8 in 1 technology pillow surpasses its crowdfunding goal on Indiegogo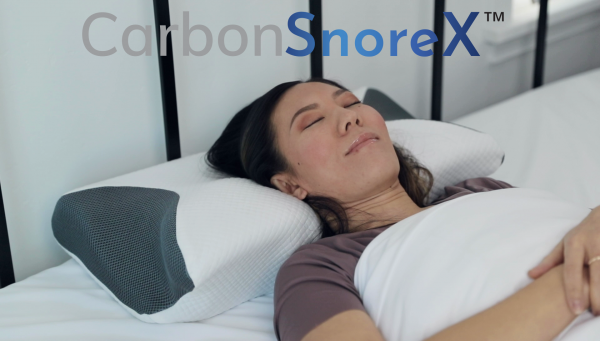 Carbon SnoreX™ is the revolutionary new and first of its kind, 8 in 1 Anti-Snore technology pillow that is here to transform the way people sleep. This pillow, equipped with Carbon bamboo AirTech Memory Foam, Graphene and Copper to protect against allergens and bacteria, has received rave responses on its Indiegogo campaign, surpassing its goal a month before the campaign end date. Featuring the innovative Anti-Snore technology and a unique design, the pillow has already raised more than its funding goal of $4000 USD.
The reason why people all over the world are going gaga over the Carbon SnoreX™ pillow is because of its advanced features that make sleep more comfortable and peaceful. The Carbon Bamboo charcoal eliminates odors, absorbs excess moisture and regulates temperature, making it great for people with allergies, asthma, and sensitive skin. Its activated carbon prevents mold growth, absorbs toxins and bad odors. One of the most amazing features of this pillow is the Anti-Snore neck support channel that provides maximum support to the head and neck for clearing breathing pathways and help reduce snoring.
Carbon SnoreX™ is aimed to provide full orthopedic support for a peaceful sleep and is suitable for all kinds of sleepers. This pillow features the proprietary Air-Cell technology that utilizes airflow cells in the pillow to create a constant movement of fresh air to keep the pillow cool and allow maximum comfort. Furthermore, the enhanced Air-Cell tech holes encourage better airflow to resist heat and keep the pillow structure intact for years to come.
Another remarkable feature of the Carbon SnoreX™ pillow is the proprietary Bounce-Tek Memory Foam that offers unmatched support to the head, neck, and shoulders. It overcomes the shortcomings of regular pillows that often cause muscle fatigue, pain, soreness, and discomfort, to provide maximum support for better sleep. It also promotes proper spine alignment to maintain the correct body posture and increase sleep quality.
Some of the other features that make Carbon SnoreX™ the ultimate pillow is the Copper germ defense inner cover and the Ice Cool cover. The copper particles infused in the pillow are beneficial for skin and prevent acne breakouts while improving skin elasticity and smoothness. In fact, copper technology has been tested by NASA for its skin-healing and microbial properties and it is also infused in hospital linens, scrubs, and other medical fabrics to prevent the growth of bacteria. The Ice Cool Pillowcase removes moisture to keep you cool, while the cool silk material is anti-mildew, anti-static, insect-proof and washable.
Carbon SnoreX™ is equipped with an extremely breathable Air Vortex mesh to allow airflow and ergonomically placed Dual Armrest to support arms while sleeping, reading a book, or using an electronic device.
Check out the Carbon SnoreX™ pillow in action on its Indiegogo campaign page.
Media Contact
Company Name: Dr. Pillow
Contact Person: Christina
Email: Send Email
Country: United States
Website: www.indiegogo.com/projects/carbon-snorex-pillow–2/x/11419636#/