Neuroendocrine Tumors (NETs) Analysis, Market Size, Epidemiology, Leading Companies and Competitive Analysis By DelveInsight

(Albany, US) DelveInsight has launched a new report on Neuroendocrine Tumors (NETs) Market Insights, Epidemiology and Market Forecast-2030
DelveInsight's "Neuroendocrine Tumors (NETs) Market Insights, Epidemiology and Market Forecast-2028" report delivers an in-depth understanding of the disease, historical and forecasted epidemiology as well as the market trends of NETs in the United States, EU5 (Germany, Spain, Italy, France and United Kingdom) and Japan
According to the Neuroendocrine Tumor Patient Foundation– "Neuroendocrine tumors (NETs) are a complex group of tumors that develop predominantly in the digestive or respiratory tracts, but can occur in many areas of the body. These tumors arise from cells called neuroendocrine cells. Like all cancers, NETs develop when the specialized cells undergo changes causing them to divide uncontrollably and grow into an abnormal tissue mass (tumor) ". Neuroendocrine tumors originate from enterochromaffin cells that are part of neuroendocrine system of bronchial and gastrointestinal tract.
Neuroendocrine Tumors (NET) are a heterogeneous set of tumors exhibiting diverse clinical and biological characteristics. These display a varied and confusing histology along with a complicated system of nomenclature. A neuro-endocrine tumor begins in the hormone producing cells of the neuroendocrine system of the body which is primarily made up of neuroendocrine cells. The term 'neuroendocrine' in general refers to a widely dispersed array of cells with both 'neuro – nerve cells' as well as 'endocrine- hormone secreting' properties.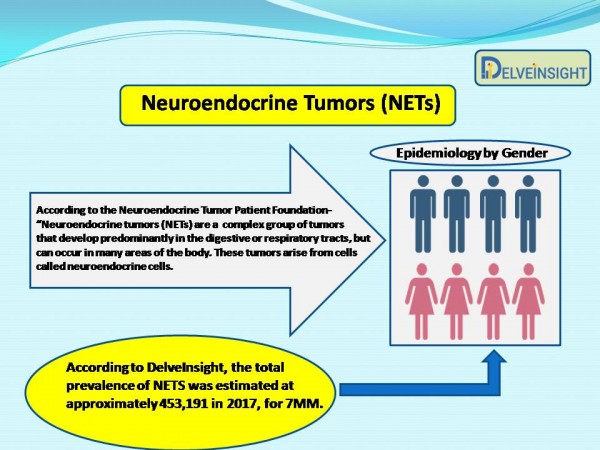 Request for :- Neuroendocrine Tumors (NETs) free sample page
Neuroendocrine Tumors (NETs) Epidemiology
The Neuroendocrine Tumors (NETs) epidemiology division provide the insights about historical and current patient pool and forecasted trend for every 7 major countries. It helps to recognize the causes of current and forecasted trends by exploring numerous studies and views of key opinion leaders. This part of the DelveInsight report also provides the diagnosed patient pool and their trends along with assumptions undertaken.
The disease epidemiology covered in the report provides historical as well as forecasted epidemiology (total prevalent population, total incident population, total diagnosed prevalent cases of Neuroendocrine Tumors, symptom based classification, diagnosed prevalent cased based on malignancy, site-specific prevalent cases, grade-specific prevalent cases and stage-specific prevalent cases) scenario of Neuroendocrine Tumors (NETs) in the 7MM covering United States, EU5 countries (Germany, Spain, Italy, France and United Kingdom) and Japan from 2017-2028.
According to DelveInsight, the total number of prevalent cases of Neuroendocrine Tumors (NETs) in 7 MM was found to be 453,191, in the year 2017.
Report key facts:-
1. According to DelveInsight, the total prevalence of NETS was estimated at approximately 453,191 in 2017, for 7MM
2. Among the European countries, Germany had the highest prevalent population of Neuroendocrine Tumors with approximately 49,690cases, followed by France, which had a prevalent adult population of approximately 40,328in 2017. On the other hand, Spain had the lowest adult prevalent population of approximately 27,853cases in 2017.
Report Key Benefits :-
1. This DelveInsight report will help to develop Business Strategies by understanding the trends shaping and driving Neuroendocrine Tumors market
2. Organize sales and marketing efforts by identifying the best opportunities for Neuroendocrine Tumors market
3. To understand the future market competition in the Neuroendocrine Tumors market.
key companies working on Neuroendocrine Tumors (NETs) are given below:-
1. Novartis Pharma Co.
2. Pfizer Pharma Co.
Name of drugs covered are given below:-
1. Afinitor
2. Sutent
1. Key Insights
2. Neuroendocrine Tumors Epidemiology Overview at a Glance
3. Disease Background and Overview: Neuroendocrine Tumors (NET)
4. Epidemiology and Patient Population
5. Country Wise-Epidemiology of NETs
6. Treatment Algorithm
7. Unmet needs
8. Marketed Products
9. Emerging Drugs
10. Neuroendocrine Tumors: 7 Major Market Analysis
11. Market Outlook by Country
12. The United States: Market Outlook
13. EU-5 Countries: Market Outlook
13.1. Germany
14. Market Drivers
15. Market Barriers
16. Appendix
16.1. Report Methodology
17. DelveInsight Capabilities
18. Disclaimer
19. About DelveInsight
Related Reports:-
1. Neuroendocrine Tumors (NETs) – Epidemiology Forecast to 2030
2. Neuroendocrine Carcinoma – Epidemiology Forecast to 2030
Media Contact
Company Name: DelveInsight Business Research LLP
Contact Person: Anuj Rawat
Email: Send Email
Phone: +919650213330
Address:304 S. Jones Blvd #2432
City: Albany
State: New York
Country: United States
Website: https://www.delveinsight.com/