J & A Industries Marks 41 Years of Business with New Industry Leading Workbench
J & A Industries is marking its upcoming 41th year in business by moving online.
Founded in 1980, J & A Industries has been an industry-leading workbench manufacturer for almost 30 years, during which time they have rapidly grown and are now recognized as industry leaders.
They have supplied workbenches to global brands, including National nuclear security, Toshiba America Electronic Components Inc, Benchmark Electronics, Western Digital, more recently, Autodesk Visual Design Engineering.
J & A Industries employees have been kept busy despite the pandemic, processing a large volume of orders every day.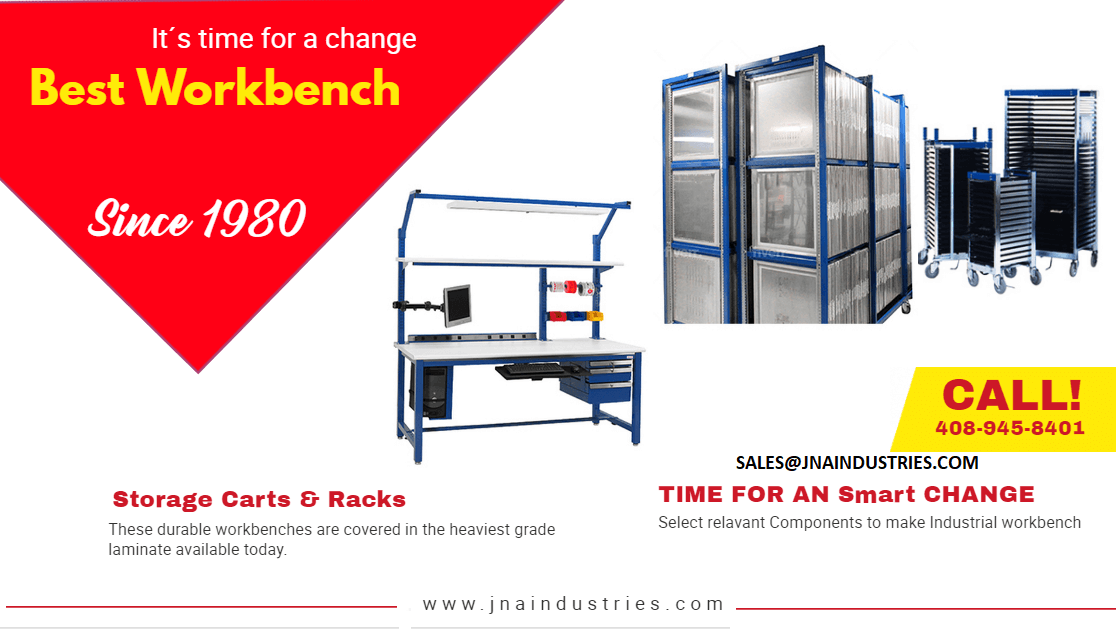 Following the Coronavirus pandemic, J & A Industries has sought out ways they can adapt and help other businesses keep their staff safe.
Their range of sneeze guards has proved to be popular with businesses looking for a solution to keep their staff and customers safe from the pandemic whilst still remaining open.
The acrylic sneeze guards can be attached to desks and workbenches, but larger freestanding options are also available and can easily be moved to a different location when needed.
The guards create a barrier between employees and customers, preventing them from breathing in potentially infectious air particles.
This, in turn, has afforded many businesses the protection they need to continue operating without risking the health of their staff and clients.
Alongside the success of their coronavirus range, J & A Industries has seen their workbench sales increase steadily.
Their range of heavy-duty workbenches is used across the US, with their Kennedy Series workbench amongst their bestselling products.
This continued growth has given way to the company launching a brand new workbench to add to their industry leading range.
Their new website features a Workbench with price which allows users to select and customize a style of workbench bespoke to their needs and see exactly what it will look like.
Customers can choose one of eight default styles and customize the tabletop design, size, and configuration.
They can add on a range of accessories, including drawers, lights, shelves, trays, and keyboard trays.
Every option the user selects will be reflected in the 3D diagram, giving customers a realistic idea of what they can expect their bespoke workbench to look like and customizing a design that really works for them.
Once a Quote has been placed online, the J & A Industries team is committed to response the product to the customer within 2-7 days.
J & A Industries has manufacturing facilities in California, and although it continues to rapidly grow in size, it remains a family-owned business rub by American, Mo Jamal.
In addition to their high quality products, J & A Industries are committed to being environmentally friendly, leading the way for other businesses in the industry to become greener.
All of their leftover materials are recycled, with wood drop from cutting tops used as packaging, and sawdust being donated to local farmers as fertilizer.
On top of this, J & A Industries uses only water-based solvents as opposed to petroleum-based solvents.
Their laminated tops are made from 80-95% recycled wood and exceed the strength and health standards set out nationally.
It is anticipated that J & A Industries and its parent company, J & A Industries, will continue to grow and advance as industry leaders.
Official Youtube channel: https://www.youtube.com/channel/UCwea43RacW6Cctf-nPX9Puw
Media Contact
Company Name: J & A Industries
Contact Person: Mo Jamal
Email: Send Email
Phone: +1 (408) 945-8401
Country: United States
Website: https://jnaindustries.com