Changing Market Dynamics of Cytomegalovirus Infections Market in the 7 Major Markets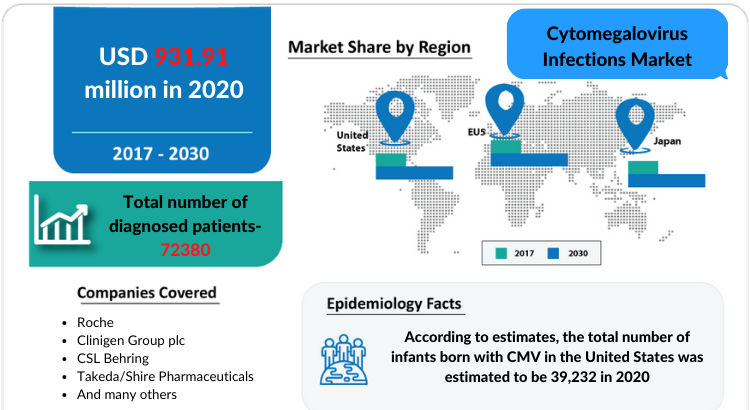 "Cytomegalovirus Infections Market" report has been added to DelveInsight
The Cytomegalovirus Infections Market report provides an edge while developing business strategies, by understanding trends shaping and driving the global Cytomegalovirus Infections Market
Download free sample copy here- https://www.delveinsight.com/sample-request/cytomegalovirus-cmv-infection-market-insight-epidemiology-and-market-forecast
Cytomegalovirus Infections Overview
Infection with cytomegalovirus (CMV) is very common. CMV Infections is a type of herpesvirus (herpesvirus type 5). Blood tests show that 60–90% of adults have had a CMV Infections infection at some time. Infections infection at some time. CMV Infections may cause symptoms soon after infection and can also remain dormant (inactive) in various tissues for life. Various stimuli can reactivate the dormant CMV Infections, resulting in virus growth which can sometimes cause disease. The lungs, gastrointestinal tract, brain, spinal cord, or eyes may be infected.
Cytomegalovirus Infections Geography Covered
The United States
EU5 (Germany, France, Italy, Spain, and the United Kingdom)
Japan
Cytomegalovirus Infections Key Players
Roche
Clinigen Group plc
CSL Behring
Takeda/Shire Pharmaceuticals
Helocyte
AlloVir
Merck
ModernaTX
Hookipa Biotech
Cytomegalovirus Infections Drugs
Valcyte
Foscavir
CytoGam
Maribavir (TAK-602)
Triplex
Viralym-M
V160
mRNA-1647
HB101
Cytomegalovirus Infections Report Key Strengths
10 Year Forecast
7MM Coverage
Epidemiology Segmentation
Drugs Uptake
Highly Analyzed Market
Key Cross Competition
Cytomegalovirus Infections Market Report
When a baby is born with cytomegalovirus (CMV Infections) infection, it is called congenital CMV Infections. Most babies with congenital CMV Infections never show signs or have health problems. However, some babies have health problems at birth or that develop later. When the infection threatens life or eyesight, an antiviral drug (valganciclovir, ganciclovir, cidofovir, foscarnet, or a combination) may be given. These drugs may be given by mouth or by vein. When CMV Infections retinitis is very severe, the drugs may also be injected directly into the eye. These drugs have serious side effects, which increase the demand and need for more potential therapies. The market is expected to grow by factors like an increase in the patient pool, expected entry of emerging therapies, i.e., such as V160, mRNA-1647, HB-101, and deeper penetration in the United states markets.
Cytomegalovirus Infections Market Outlook
According to DelveInsight, the market of Cytomegalovirus (CMV) Infections in 7MM was found to be approximately USD 1195.10 million in 2017. Cytomegalovirus (CMV) Infections market size in the United States accounted for approx. 68.16% of the total market in 2017.
Among the EU5 countries, in 2017, France had the highest market size with approximately USD 84.00 million, while Italy had the lowest market size for CMV Infection with approximately USD 47.00 million.
The market size of prophylactic and therapeutic CMV Infection in seven major markets was approximately USD 771.00 million and 423.00 million in 2017.
Download free sample copy here- https://www.delveinsight.com/sample-request/cytomegalovirus-cmv-infection-market-insight-epidemiology-and-market-forecast
Following is the TOC of Cytomegalovirus Infections market report
1. Key Insight
2. Cytomegalovirus (CMV) Infections: Market Overview at a Glance
3. Disease Background and Overview: Cytomegalovirus Infections (CMV)
4. Epidemiology and Patient Population
6. Treatment Algorithm
7. Unmet Needs
8. Marketed Products
9. Emerging Drugs
10. Failed Therapies
11. Cytomegalovirus Infection: 7 Major Market Analysis
12. The United States Market Outlook
13. EU-5 Countries: Market Outlook
14. Market Drivers
15. Market Barriers
16. Appendix
17. DelveInsight Capabilities
18. Disclaimer
19. About DelveInsight
Related Reports
Cytomegalovirus Infection Epidemiology
DelveInsight's Cytomegalovirus Infection Epidemiology Forecast 2030 report delivers an in-depth understanding of the disease, historical, and forecasted epidemiology of Cytomegalovirus (CMV) Infection in the United States, EU5 (Germany, France, Italy, Spain, and the United Kingdom), and Japan.
Cytomegalovirus Infection Pipeline
Cytomegalovirus (CMV) Infection Pipeline Insights, 2021 report by DelveInsight outlays comprehensive insights of present clinical development scenario and growth prospects across the Cytomegalovirus (CMV) Infection market.
Media Contact
Company Name: DelveInsight Business Research LLP
Contact Person: Vinita Rakheja
Email: Send Email
Phone: 9193216187
Address:304 S. Jones Blvd #2432
City: Albany
State: New York
Country: United States
Website: www.delveinsight.com/