Haier Biomedical's Combined Refrigerator and Freezer Meets a Variety of Temperature Requirements
As the biomedical field develops rapidly, more and more pharmaceuticals, samples, etc., are being used in clinical and life safety research. They require a suitable storage environment to give full play to their use-value. However, different samples, vaccines, and reagents generally have different temperature requirements, and they are abundant in varieties in the laboratory scenario. So how to meet the different temperature requirements while saving space and ensuring easy management? Haier Biomedical's combined refrigerator and freezer gives a perfect answer. The combined refrigerator and freezer are designed to store frozen blood plasma, biological materials, vaccines, and special materials in blood stations, hospitals, epidemic prevention stations, universities and colleges, scientific research institutes, the laboratories of electronic chemical enterprises as key examples. The product can truly meet different temperature requirements.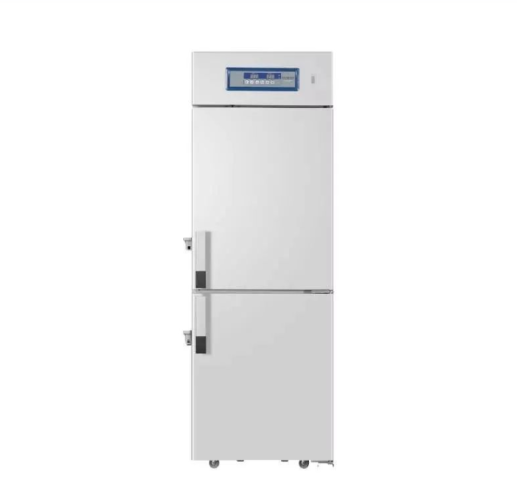 Large Space, superior uniformity, and accurate temperature control
The combined refrigerator and freezer are designed with a built-in evaporator, a large inside space, and adjustable shelves/partitions. Based on microprocessor control, the refrigerator temperature ranges from 2℃ to 8℃ with a temperature uniformity of ±3°C and control accuracy of 0.1°C, and the freezer temperature ranges from -10℃ to -40℃ with a temperature uniformity of ±5°C and control accuracy of 1℃. The product provides stable and suitable homes for vaccines, plasma, drugs, and biological products.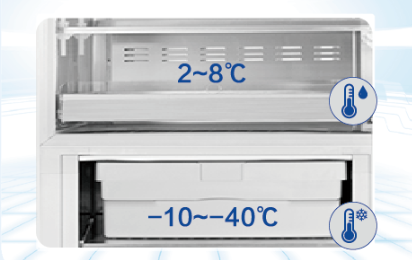 Independent Lock Catches and Safety Pre-warning
The combined refrigerator and freezer are designed with dual padlocks and separate doors with independent lock catches for the refrigerator and freezer to ensure product safety. The product can indicate multiple alarms, including high- or low- temperature alarm, sensor fault alarm, power failure alarm, low battery alarm, door ajar alarm, and high ambient temperature alarm, through an audible buzzer or visible flashing light. Such alarm functions can last for more than 48 hours after power failure. The product also comes with an overcurrent protector to ensure safe use.
Energy-Efficient and Environmentally Friendly
The combined refrigerator and freezer are equipped with variable frequency efficient compressors and optimized refrigeration systems, which is more energy-saving. Designed to use hydrocarbon refrigerants and cyclopentane foam polyurethane insulation layers, the whole product series is environmentally friendly and conforms to the European ROHS standards.
Unique Design and Convenient Operation
The refrigerator and freezer are designed with two separate test ports to test the temperature independently. The large LED screen display delivers an excellent user interface experience. The USB port automatically saves temperature data for up to 10 years for convenient inquiry and record keeping. A printer is optional to simultaneously print out the temperatures of the refrigerator and the freezer. The stainless-steel inner tank is corrosion-resistant and easy to clean. Four casters and two leveling legs are designed for ease of maneuvering.
Haier Biomedical will remain true to our original aspiration, focus efforts on developing technological products, and take customer demands first to bring users better products and services, committed to global healthcare development for the intelligent protection of life science to make life better!
Media Contact
Company Name: Haier Biomedical
Email: Send Email
Phone: +86-532-88935593
Country: China
Website: https://www.haiermedical.com/