5 applications for PTFE, the king of plastics
PTFE is commonly known as the king of plastics, and is a kind of high molecular compound, which is polymerized from tetrafluoroethylene. Unique properties of PTFE Teflon allow itself to be used in in a wide range of industries, such as chemical processing, oil and gas, textile, food, paper making, medical, construction, electrical and electronic, consumer cookware, and mechanical, etc. Here SuKo shares the major five applications of PTFE with you, to help you better know it.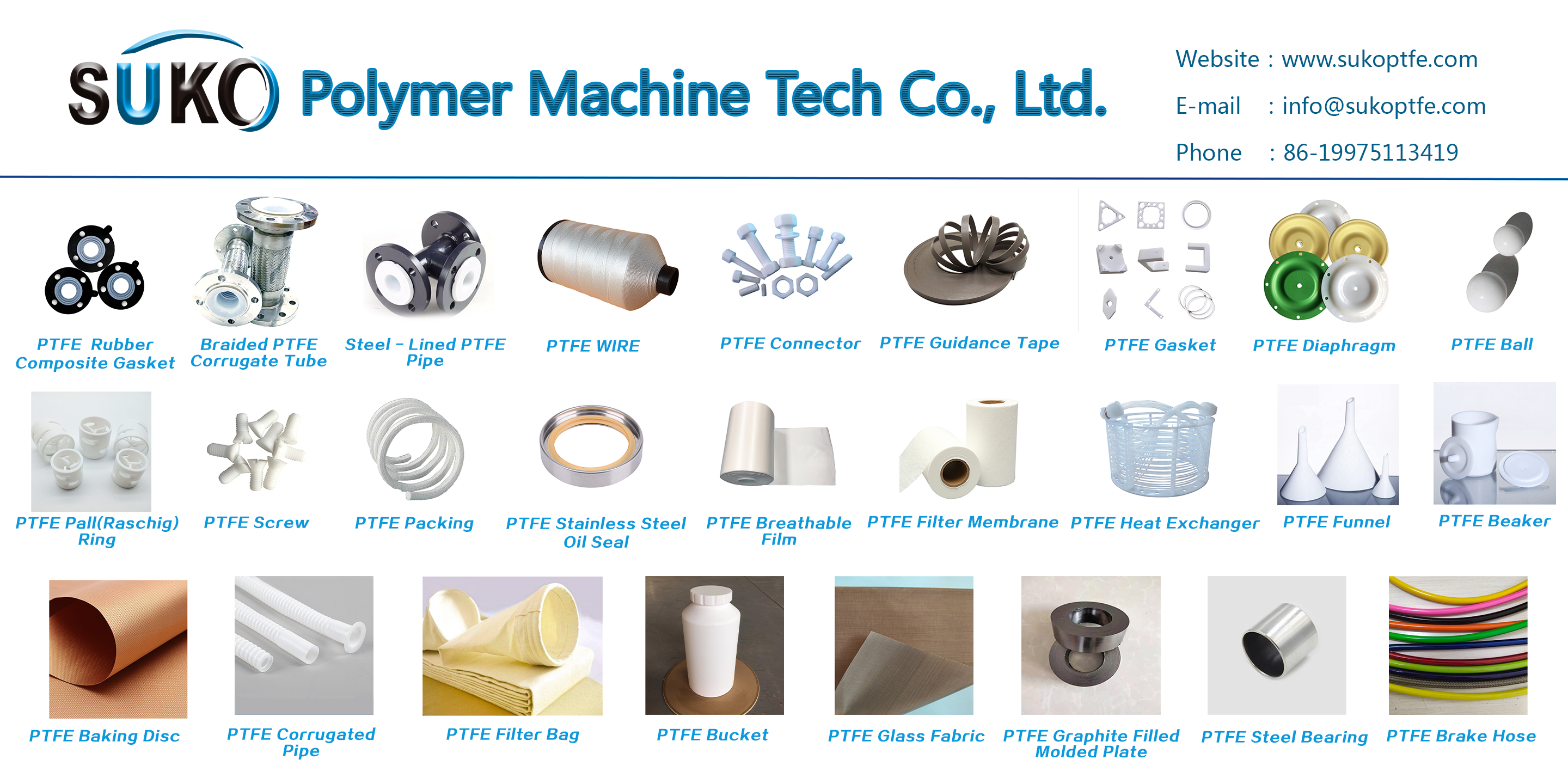 SuKo Teflon PTFE Product
1. Application of anti-corrosion properties
Rubber, glass, metal alloy and other materials fail to meet the harsh conditions of temperature, pressure and chemical media coexistence environment due to their defects in corrosion resistance. However, PTFE has excellent anti-corrosion resistance and thus has become the main corrosion-resistant materials for petroleum, chemical, textile and other industries.Its applications include transport pipes, exhaust pipes and steam pipes for corrosive gases, rolling mills, high-pressure oil pipes, high and low pressure pipes for aircraft hydraulic systems and cold pressure systems, distillation towers, heat exchangers, kettles, towers, tank linings, valves and other chemical equipment.
2. Application of low friction properties in load
Oil lubrication is not suitable for friction parts of some equipment, because lubricating grease can be dissolved by solvents and does not work, or products in the pharmaceutical, food, textile and other industrial fields need to avoid staining by lubricants. Consequently, PTFE plastic, whose coefficient of friction is lower than any other known solid material, has become the most ideal material for oil-free lubrication (direct load bearing) of mechanical equipment parts.It mainly serves as bearings, piston rings, machine tool guides, and guide rings of chemical equipment, paper-making machinery, agricultural machinery; supporting sliders of bridges, tunnels, steel roofs, large chemical pipelines, and storage tanks in civil engineering and construction projects.
3. Application in electrical and electronic
Inherent low loss and small dielectric constant of PTFE material enables itself to be made into enameled wire for micro motors, thermocouples and control devices. PTFE film is the ideal insulation material for manufacturing capacitors, radio insulation liner, insulated cables, motors and transformers, and is also one of the indispensable materials for aerospace and other industrial electronic components.Oxygen sensors can be produced by making use of the selective permeability of PTFE film, which has high permeability to oxygen and low permeability to water vapor. Parts of microphones, loudspeakers, and robot can be manufactured by making use of the property of PTFE plastic that polar charge deviation occurs at high temperature and pressure. Optical fibers can be manufactured by making use of its low refractive index.
4. Application in medical medicine
Expanded PTFE is purely inert and very biologically adaptable, so it does not cause rejection by the body, has no physiological side effects on the human body, can be sterilized by any method, and has a multi-microporous structure. Therefore, it can be used in various rehabilitation solutions, including artificial blood vessels and patches for soft tissue regeneration and surgical sutures for vascular, cardiac, general and plastic surgery.
5. Application of anti-adhesive properties
With the lowest surface tension of any solid material, PTFE Teflon does not stick to any substance. Moreover, it has excellent resistance to high and low temperatures. As a result, it has been widely used in anti-adhesive feature of non-stick pans. There are two main types of anti-adhesive processes: first, mounting PTFE parts or sheets on the substrate; second, heat shrinking PTFE coating or lacquered cloth laminated with glass onto the substrate.
source: https://www.sukoptfe.com/news/top-5-applications-of-ptfe/
Media Contact
Company Name: SuKo Polymer Machine Tech Co., Ltd.
Email: Send Email
Phone: +8619975113419
Address:No.5 Lvshu 3 road, Xuejia, Xinbei District
City: Changzhou
State: Jiangsu, 213000
Country: China
Website: https://www.sukoptfe.com/